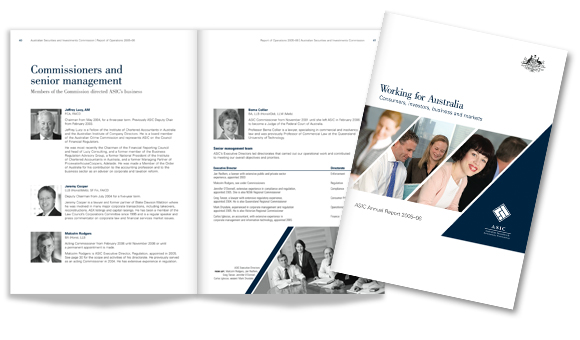 ASIC Annual Report 2006
The most scrutinised annual report in Australia
For two years, we created the annual report for ASIC. Accuracy and attention to detail are key with this client, whose performance is reviewed by parliament and the media every year. We used a classic, sophisticated design, and commissioned photography that emphasised the achievements of the organisation at the beginning of the report.
The full page black and white photography gave the report a completely new look and feel, and the new colour palette better reflected the industry it operates in. It was also the first time imagery 
of the real people behind ASIC's achievements had been used.
Our 2006 annual report for ASIC won a gold Annual Review Award, and the organisation was delighted with the new design.
"Just to let you know that the Chairman is very pleased with the look of the annual report, as we all are. I have appreciated the care you've taken and your willingness to go to extra lengths over various matters."
Michael Dunn, Director, Consumer Communication, ASIC